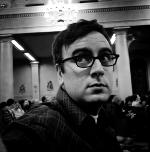 Office Hours
:
Fall 2019 - please email for appointment
Bio
:
Robert Krut teaches Writing 1-2 (through the ACE Program), 50 (with a focus on "Cultural Groundbreakers"), 107B, 109F, and works extensively with community outreach.  In addition to his work in the Writing Program, he teaches creative writing and literature in the College of Creative Studies.  He is the author of two books: This is the Ocean (winner of the Melissa Lanitis Gregory Poetry Prize, and published by Bona Fide Books in 2013) and The Spider Sermons (BlazeVox Books, 2009). His poetry has also appeared in numerous literary journals, both in print and online.
Publications
:
Krut, Robert.  This is the Ocean.  Lake Tahoe, CA:  Bona Fide Books, 2013.
Krut, Robert.  The Spider Sermons.  Buffalo, NY:  BlazeVox Books, 2009.
Bazerman, Charles, Robert Krut, Karen Lunsford, Amanda Stansell, et al. Traditions of Writing Research.  New York:  Routledge, 2009.