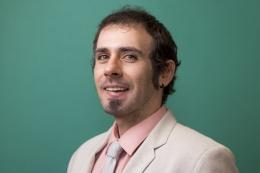 Specialization
:
Dr. Robby Nadler is a Lecturer specializing in graduate writing instruction and also serves as the Academic, Professional, and Technical Graduate Writing Development Director for the Graduate Division. 
Bio
:
Dr. Nadler earned his M.F.A. from the University of Montana and his Ph.D. from the University of Georgia where he directed the campus' five writing centers, developed the university's dissertation/thesis boot camps, created and taught the university's graduate writing courses, and transformed the campus writing centers in research units. His research focuses on nontraditional sites of basic writing, including graduate writing, STEM composition, and writing centers. 
In 2018, he was awarded the Council on Basic Writing's Innovation Award, which is granted to one institution annually and represents the highest honor acknowledging innovation in the field of basic writing education. He is the author of lyrical memoir jesse garon writes a love letter, and his scholarship can be read/is forthcoming in journals such as College Composition and Communication, Computers and Composition, and The Peer Review. For the Graduate Division, he leads the campus' Success Series and offers one-on-one writing consultations for graduate students. In addition to his role in the Graduate Division, he will be teaching Introduction to Graduate Writing, Introduction to Article Writing, Thesis/dissertation Writing Communities, and Preparing for the Academic Job Market for the Writing Program. His courses center writing as a mode of professionalization by demystifying the hidden curriculum associated with writing genres students are expected to master but are rarely taught. These highly individualized courses are open to students from any field and allow students to practice discipline-specific writing contexts with many opportunities for drafting and feedback.