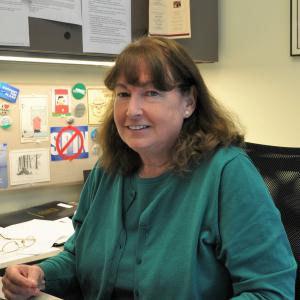 Office Hours
:
Winter 2020 - please email for appointment
Specialization
:
Marjorie Kruvand teaches Writing for Public Relations (107P), Professional Writing for Global Careers (107G), Science Writing for the Public (105SW) and Journalism and News Writing (107J).
Education
:
Ph.D., Missouri School of Journalism, University of Missouri
M.S., Medill School of Journalism, Northwestern University
B.A., Washington University in St. Louis
Bio
:
Before joining the Writing Program at UCSB, Marjorie taught communication at Loyola University Chicago, Northeastern University in Boston and the University of Missouri. Previously, she was a reporter at the St. Louis Post-Dispatch and a senior vice president and partner at FleishmanHillard, a global communication firm. Her research interests include health and science communication, how the news media cover bioethical issues and the dynamics between public relations professionals and journalists.
Publications
:
Kruvand, M. (2018). Journalists, Expert Sources and Ethical Issues in Science Communication. In S. Priest, J. Goodwin & M. F. Dahlstrom (eds.), Ethics and Practice in Science Communication, pp. 136-154. Chicago, IL: University of Chicago Press.
Kruvand, M. (2016). When Reassurance Doesn't Reassure: Journalists, Sources and Ebola in Dallas, Texas. In N. Evans, T. Smith & M. Majumder (eds.), Ebola's Message: Public Health and Medicine in the Twenty-First Century, pp. 157-173. Cambridge, MA: MIT Press.
Kruvand, M., and Bryant, F. (2015). Zombie Apocalypse: Can the Undead Teach the Living How to Survive an Emergency? Public Health Reports, 130, 655-663.
Kruvand, M. (2014). 'Team Sarah:' How a Small Group of Public Relations Volunteers Helped a 10-Year-Old Get New Lungs and Changed U.S. Transplant Policy. Case Studies in Strategic Communication, 3, 87-118.
Kruvand, M. (2013). Science and Humanity in the Era of Synthetic Life: How the News Media Cover Synthetic Biology. International Journal of Communication and Linguistic Studies, 10(2), 17-27.
Kruvand, M., and Silver, M. (2013). Zombies Gone Viral: How a Fictional Zombie Invasion Helped CDC Promote Emergency Preparedness. Case Studies in Strategic Communication, 2, 34-61.
Kruvand, M. (2012). The Pill at 50: Coverage of the Birth Control Pill in The New York Times, 1960-2010. American Journalism, 29(4), 34-67.
Kruvand, M. (2012). 'Dr. Soundbite': The Making of an Expert Source in Science and Medical Stories. Science Communication, 34(5) 566–591.
Kruvand, M., and Vanacker, B. (2011). Facing the Future: Media Ethics, Bioethics and the World's First Face Transplant. Journal of Mass Media Ethics, 26(2), 135-157.
Kruvand, M. (2011). Working with the News Media in Public Communication. In C. G. Mayhall (ed.), Hospital Epidemiology and Infection Control (4th ed.), pp. 190-209. Philadelphia: Lippincott Williams & Wilkins.
Kruvand, M. (2010). Face to Face: How the Cleveland Clinic Managed Media Relations for the First U.S. Face Transplant. Public Relations Review, 36(4), 367-375.
Kruvand, M. (2009). Bioethicists as Expert Sources in Science and Medical Reporting. Newspaper Research Journal, 30(3), 26-41.
Kruvand, M., and Hwang, S. (2007). From Revered to Reviled: A Cross-Cultural Narrative Analysis of the South Korean Cloning Scandal. Science Communication, 29(2), 177-197.