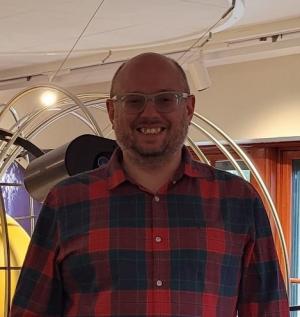 Office Hours
:
Email for an Appointment (or check Gauchospace)
Specialization
:
Kenny Smith is co-chair of the Writing Placement Committee along with Madeleine Sorapure and Sarah Hirsch. He also teaches introductory composition (Writing 1 & 2), writing and the philosophy of language (Writing 105P), and scientific communication courses (Writing 109ST, Writing 105SW, and Writing 159A). His research focuses on how literacy skills transfer from the classroom to the outside world, particularly in regard to the interpretation of scientific texts and journalism. When not playing video games and reading all the things, he has been known to listen to a considerable amount of music, especially if it has synthesizers and a catchy beat. 
Education
:
Ph.D. English—Composition/Rhetoric, University of Louisville, December 2014
M.A. English—Composition/Rhetoric, Middle Tennessee State University, May 2007
B.A. English—Creative Writing, Minnesota State University Moorhead, May 2003
Research
:
"Narrative Abundance in Scientific Communication Classrooms." With Karen Lunsford, Amanda Stansell, Rebecca Chenoweth, and Kara Mae Brown. The College Composition and Communication Conference. Spokane, WA. April 3-6, 2023 (Forthcoming).
"The Role of Life Writing about Scientists in the Composition Classroom." Writing Research Across Borders. Trondheim, Norway. February 18-22, 2023.
"Cynical and Captivated Publics: Pedagogical Strategies for Navigating the Scylla and Charybdis of Audience Engagement in Science Communication." National Council of Teachers of English (NCTE) Annual Convention. With Karen Lunsford, Amanda Stansell, Rebecca Chenoweth, and Doug Bradley. Anaheim, CA. November 17-20, 2022.
"Collaborative Writing Placement as a Model for Empowering Students and Fostering Equity." The College Composition and Communication Conference. With Sarah Hirsch, Leslie Hammer, and Madeleine Sorapure. Chicago, IL. March 9-12, 2022.
"Truth, Propaganda, and Textual Power: A Pedagogy for Combatting Cynicism in the Post-Truth Era." In Reading and Writing Instruction in the Twenty-First Century: Recovering and Transforming the Pedagogy of Robert Scholes. Edited by Ellen Carillo. Utah State University Press. 2021.