The annual DuBois Event, jointly coordinated by the Educational Opportunity Program (EOP), the Writing Program, and the Academic Communities of Excellence Program (ACE) was held on Tuesday, February 28. The goal of the event, which was also sponsored by the Graduate Division, the Chicano/a Studies Department, and the McNair Scholars Program, is to inspire ACE students, who are first generation college students who come from low-income families, to pursue higher education and learn about the graduate application process. In addition, the event celebrates and recognizes outstanding academic achievement, community service, and social justice work done by ACE students.
The winners of the Yolanda García Award for outstanding community service and social justice for the 2016-2017 school year were Paula Beltran, Michelle Jocson-Macrohon, and Sirenia Sanchez. Dr. García was there to present the awards, each of which grants $1,000.
The Maureen Driscoll Award for outstanding writing and academic achievement, which also grants $1000, went to Gabina Marin Arellano. Arellano's Writing Program instructor, Dr. Chris Dean, presented the award. Dr. Driscoll worked for 18 years in the Writing Program and was chair of the ACE program for a large portion of that time.
Dr. Victor Rios of the Sociology Department delivered the keynote address discussing his educational experiences both in early education and graduate school. Professor Rios's research agenda focuses on the role of social control in determining the well-being of young people living in urban marginality; tracking the social consequences of the punitive state and punitive social control, across institutional settings; and examining young people's resilience and responses to social marginalization. He has also worked with local school districts to develop programs and curricula aimed at improving the quality of interactions between authority figures and youths. 
Dr. Malaphone Phommasa, director of UCSB's Transfer Student Center and Dr. Michael Miller, Professor of Psychological & Brain Sciences served on a panel, discussing the educational choices they benefitted from, if graduate school met their expectations, what grad school helped them accomplish, and any advice they had for students considering graduate school. Students were given the opportunity to question the panelists about their graduate experience and the application process. In addition, students learned about the McNair Scholars Program and the graduate research process from Yvette Martinez-Vu, the Assistant Director of the McNair Scholars Program at UCSB. Not only did participating faculty share their stories and experiences, but so did graduate students from across the disciplines who attended the reception. ACE students got a chance to meet with graduate students in their own field of interest to ask them advice about the application process and learn about the graduate students' experiences in an informal setting. Dr. Nicole Warwick, a Lecturer in the Writing Program, who was the coordinator and MC of the event for the first time this year said, "I feel like it is a privilege to help support students thinking about graduate school."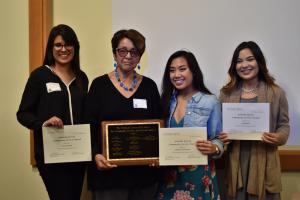 June 1, 2017 - 2:05pm