The annual Du Bois Event, jointly coordinated by the Educational Opportunity Program (EOP), the Writing Program and the Academic Communities of Excellence Program (ACE), was held on Wednesday, February 24. The event's goal is to inspire ACE students, who are first generation college students who come from low-income families, to pursue higher education and learn about the graduate application process. In addition, the event celebrates and recognizes outstanding academic achievement, community service and social justice work done by ACE students.
The winner of the Yolanda García Award for outstanding community service and social justice for the 2014-2015 school year were Olubukayo Akinyemi, Diana Cervantes, and Yaqueline Rodas. Dr. García was there to present the awards, each of which grants $1,000.
The Maureen Driscoll Award for outstanding writing and academic achievement, which also grants $1000, went to Sean White. White's past Writing Program instructor, Ilene Miele, presented the award.  This year's award was especially significant as Dr. Driscoll recently passed. She worked for 18 years in the Writing Program and was chair of the ACE program for a large portion of that time. Dr. García paid tribute to Driscoll during the awards ceremony.
Dr. Gerardo Aldana, the Associate Dean for the College of Creative Studies and Professor in the Anthropology and Chicana/o Studies Departments, gave a keynote speech discussing his journey to graduate school. The Writing Program Director, Dr. Madeleine Sorapure, and Dr. Tommy Dickey, a Professor of Geography and the Interdepartmental Graduate Program in Marine Science, served on a panel where students could ask the panelists questions about their graduate school experiences and the application process.  In addition, students learned about the McNair Scholars Program from a past McNair scholar, Carlos Jiménez. Not only did participating faculty share their stories and experiences, but so did graduate students from across the disciplines who attended the reception. ACE students got a chance to meet with graduate students in their own field of interest to ask them advice about the application process and learn about the graduate students' experiences in an informal setting over pizza, drink and desert. Dr. Leslie Hammer, a Continuing Lecturer in the Writing Program, who has been the coordinator and MC of the event for the last five years, said that the Du Bois Event encourages students to "think big."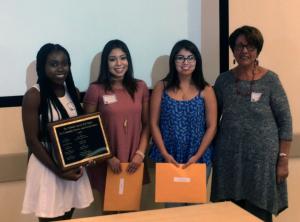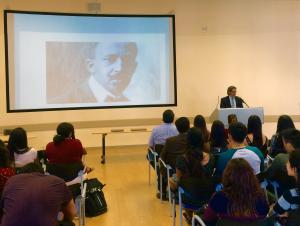 March 6, 2016 - 3:11pm