Three students were honored at the annual W.E.B. Du Bois Event for Educational Opportunity Program (EOP) students enrolled in Writing 1 and Writing 2.
Danny Thai was the recipient of the Maureen Driscoll award, which grants $1,000 to a student for outstanding academic performance in writing. Belen Vergugo and Samantha Diego were given the Yolanda Garcia award, which includes a $1,000 grant for outstanding service to the community and/or UCSB. This award honors EOP students who are the first in their family to attend college.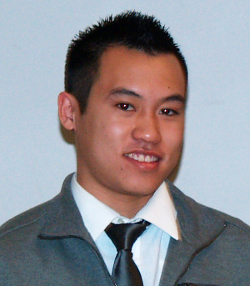 Danny Thai
The event is intended to help students think about their academic future, including the possibility of eventually applying to graduate school. It was held on March 2 at the SRB Multipurpose Room.
California State Assembly member Das Williams was the keynote speaker. He reflected upon his experiences growing up as a child in poverty in Isla Vista and how he later worked to put himself through college and graduate school. In addition, Williams offered his thoughts on topics related to education and the economy.
One of the highlights of the event was the panel discussion, which included Linda Adler-Kassner, director of the Writing Program, and Omer Blaes, chair of the Physics Department. They shared their experiences on what motivated them to continue their education beyond the undergraduate level, as well as the challenges and rewards of graduate school.
Several students after the event commented on how these panelists prompted them to work their hardest, so they could attend graduate school themselves someday. As freshman Karina Lopez remarked, "I never really thought about going to graduate school, but this event made me think about it and inspired me."
After the panel, the undergrads chatted informally with graduate students from a range of academic disciplines over pizza, drinks, and desserts about the process of applying to graduate school and what it's like to be there.
August 13, 2014 - 10:22am