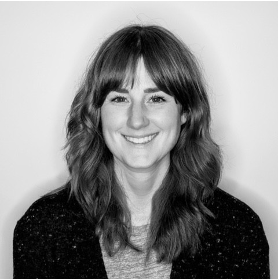 SANTA BARBARA, California – On February 28, 2023, via Zoom, UC Santa Barbara's Writing Program hosted its Winter speaker, Alivia Birdwell, for the quarterly Professional Writing Minor Graduate Speaker Series. She spoke in depth about her experience as Director of Integrated Marketing at Chime, a San Francisco fintech company. She has worked in the field of marketing for over 10 years across retail, tech, and non-profit sectors. Alivia graduated from UCSB with a Bachelor of Arts in Global Studies and a Minor in Professional Writing. Her presentation detailed her experience with the minor, her subsequent career, and the many ways that students can employ their writing skills in their postgraduate careers.              
        
"What I enjoy most about these [Graduate Speaker Series] events is hearing about the many directions writing can take you in life," said Craig Cotich, Alumni Outreach Coordinator and Director of the Professional Writing Minor Editing Track. "From starting their own companies to attending law school or graduate schools to engaging in any number of forms of professional writing and editing and design, alumni are doing fantastic things, and it's truly inspiring to see their enthusiasm about their career trajectories."
The Writing Program has invited another alumnus, Dhishal Jayainghe, to speak next month for the spring event of this year's series. Dhishal graduated from UCSB with a Professional Writing minor in Civic Engagement, and since then has worked for Senator Bernie Sanders. He is soon moving on to work in the State Department in the Bureau of Population, Refugees, and Migration.
This series is open to all Professional Writing Minor students, and an exciting opportunity for alumni to provide insight for students entering their postgraduate careers. Current undergraduates are able to learn how alumni utilized the skills they gained from the Professional Writing minor to succeed professionally.
UCSB's Professional Writing Minor Graduate Speaker Series was started by Writing Program lecturer Craig Cotich in 2022 as a way to connect current Professional Writing minors with alumni, at a time when many events and opportunities were canceled by the pandemic.
 
March 13, 2023 - 8:54am