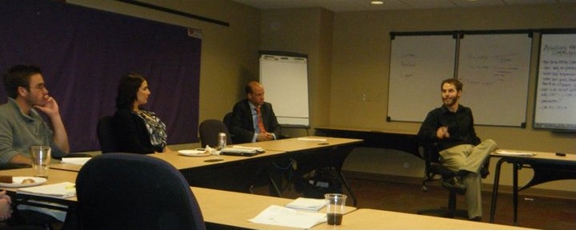 Above see David Landes, our first Writing/Rhetoric Major, now working in Rhetoric and Communication at the University of Pittsburgh. Guided especially by Roy Vallis and Susan McCleod, David completed his UCSB work in 2007 and is pursuing doctoral studies in Rhetoric, Media, and Communication at the University of Pittsburgh.
In addition to finishing his Ph.D., David continues to serve as a consultant for multiple profit and non-profit agencies (e.g.: Zola Design, Kullu Valley Bike Project, Baker Leadership), and is, in the second photo, publicly defending Rhetoric in a mock trial.
In December, David was hired by the Governor's Office to offer a social media workshop for approximately forty directors of various state-funded programs. In this capacity, he will be "drawing from his.work in rhetoric, media, and culture in order to.engage in.finding cost-effective implementation, managing privacy and liability pitfalls, and using social media for performance metrics, trust networks, and communication strategies.[in advancing] PennSERVE's objectives for social justice through community involvement." (http://www.comm.pitt.edu/news/graduate/landesgov).
David Landes just received an award by Baker Leadership, Allegheny County Council, and Pittsburgh City Council, which issued a proclamation of the award recipients, and he was named a "Western PA Rising Star." Baker Leadership's contributions are to civic engagement and community participation; the honorees were selected for "their service to the community and commitment to helping others."
August 13, 2014 - 10:15am