"Dear Gaucho,
Hey, I would like to tell you most of the things that people find funny and interesting about me."
So began a letter from Cesar, one of the 150 Advancement Via Individual Determination (AVID) students from RJ Frank Intermediate School in Oxnard who visited campus on December 2, 2010 for the second annual Writing Everywhere (WE) Collective Letter Exchange Dinner hosted by the Writing Program.
In September, 2010 the AVID students began exchanging letters with students in Academic Communities for Excellence (ACE) writing classes as part of a program designed improve writing skills, enlarge perceptions about what counts as writing, and encourage academic achievement.
The dinner was a celebration of writing as well as an opportunity for students and faculty to meet and to learn from one another. The event featured a number of speakers including Writing Program Director Linda Adler-Kassner and UCSB students Ryland King and Stefany Viesca who both received Writing Program awards last year.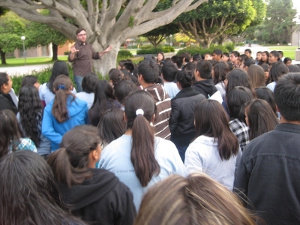 The grand finale was a series of readings from several letter-writing pairs, who generously shared their work with the audience. The letters were at times amusing, at other times poignant but--most importantly--honest, and made clear the connections that had been established between the two groups. Through their writing and conversation over dinner, students were able to ask questions, express their hopes and fears, gain valuable insights about college life, and recognize their potential for success.
Another opportunity for making connections--the WE Collective web site (www.writing.ucsb.edu/faculty/rkrut/WEsite.htm)--was launched at the dinner. The site honors student work and provides valuable resources for them, their teachers, and parents. In addition, it includes a feature where intermediate school students can submit questions to college students. Their questions, and the answers, will then be posted on the web site.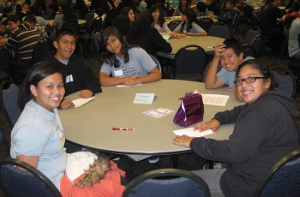 The letter exchange project was coordinated by Writing Program faculty Robert Krut and Ilene Miele with the assistance of RJ Frank AVID instructors Kristin Storey, Kim Haley, Elsa Lopez, Josie Byrnes, and Fred Pantoja; and UCSB writing faculty from the ACE program: Randi Browning, Craig Cotich, Chris Dean, Jennifer Johnson, Kathy Patterson, and Roy Vallis. The ACE Program, which was a recent recipient of the prestigious Vella Award, was a natural fit for the project, as it aims to enhance the college experience by providing support and guidance for its students.
The event was funded by the Writing Program, Educational Opportunity Program, Summer Transition Enrichment Program, South Coast Writing Project, and a mini grant awarded to Krut, Miele, and Associate Professor Karen Lunsford by the Office of Academic Preparation. The project will be featured in a panel presentation at the 2011 Conference on College Composition and Communication in Atlanta, GA.
August 13, 2014 - 10:13am