Michael Petracca received the UCSB Distinguished Teaching Award in front of 25 lucky students in his 105 Creative Non-Fiction class on April 7, 2011.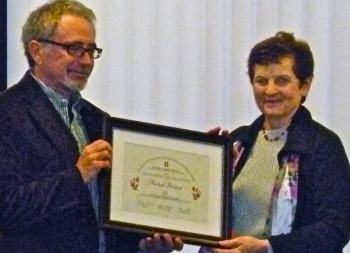 Michael has been an outstanding teacher to the thousands of students who have been enrolled in his classes. He has also been an invaluable guide to myriad instructors at all levels who have benefited from his pedagogical work when they use the text he co-authored with Madeleine Sorapure (Common Culture: Reading and Writing About American Popular Culture, now in its 6th edition); and Academic Communities/Disciplinary Conventions (2001), co-authored with Bonnie Beedles. Adding to his accomplishments are his richly ironical novels, Doctor Syntax (1984) and Captain Zxyzk (1992), and his adventures as a semi-pro poker player and intrepid surfer.
Since 1982 Michael has been an outstanding teacher in the Writing Program, touching the lives of thousands of students. Additionally, he has shared his talents, sense of humor, intelligence, and generous nature with colleagues through his work as Interim Director of the Writing Program (2003-2005), a supervisor of Teaching Assistants, head of the Writing Program personnel committee, and a leader in the program for the last 25 years.
Michael Petracca's award is the third given to a Writing Program Faculty member in the last few years; faculty member Nick Tingle won the DTA in 2010, and Jeff Hanson achieved this honor in 2007 for his work in Writing and Linguistic.
August 13, 2014 - 10:16am